805-878-8211
Santa Maria, Ca
Service Overview
---
The Latest Technology in Race Engine Development. From Engine Machining to Tuning & Support.
Complete Race Engines
RES engine services meet the highest standards in the industry. Every clearance is thoroughly measured and recorded. All parts undergo a complete inspection process including magnaflux. We utilize proprietary machine and honing processes verified with a profilometer bore inspection machine to ensure optimum ring seal.
Cylinder Head Porting
Having worked with industry names like Alan Johnson Performance, RES cylinder head R&D and porting services ensure the peak performance + reliability of cylinder head and valve-train components.
Flow Bench Testing
RES Uses a Superflow 600 Flow Bench calibrated by Harold Bettis along with a Brzezinski flow stand with slider plates for accurate cylinder to cylinder testing. Computer aids include an Audie Technologies Swirl Meter. Pitot tubes are used for air speed mapping.
Computer Aided Design
RES utilizes the latest technologies available for computer aided design and profiling. The result is more efficient cylinder head flow, higher engine output and more consistency in both machining and cylinder to cylinder performance.
Track-side Support
From computerized engine tuning to power management, Race Engine Systems has the expertise to keep you in the race and get you to the winners circle. Our reputation as an engine builder with numerous records in several classis of motorsports speaks for itself.
Race Engine Systems of Santa Maria, CA offers the design and assembly of custom racing engines, cylinder head R&D, porting, flow bench testing, camshaft spec & design, engine dyno-tuning and track-side support.
With over 20 years working alongside some of the top names in the racing engine industry, we apply our expertise and experience to every engine we build. With the RES name on numerous records and several vehicles competing at the top of their class, we attribute our success to the use and understanding of the latest innovation and technologies available from computer aided engine design to the most advanced power management systems.
RES is highly active in the racing community and supports participants of all forms of motorsports including drag racing, circle track, off-road racing, vintage, marine and offshore. Our client list includes numerous record holding vehicles in venues such as the PSCA, WCHRA, SCSN and numerous other national racing organizations.
Motorsports
---
Active participation and customer support in a variety of competitive motor-sports.
RES Customers
---
Race Engine Systems customers hold numerous records in national racing venues.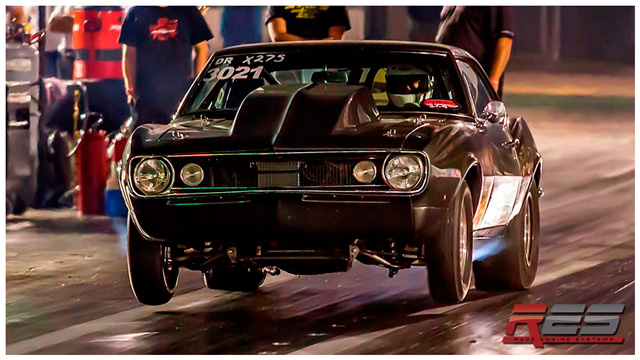 Mike Orban - '68 Camaro
RES 582 BBC – Procharged
---
WCHRA Small tire
PSCA Small tire / XDR
Team Bodie Small tire 
Ray Noriega - 21' Eliminator Jet
RES 555 BBC – Dart 355 CNC
---
800hp 730tq  Pump Gas
96 mph
Argentieri Racing - '74 Blazer
RES 598 BBC – Applied Nitrous 2-Stage Fogger
---
300 ft sand drags
1600+ Hp  / 3.92 @ 87 mph  
Mike Silva - '65 Chevy II
RES 420″ SBC – 4150 & Single Stage -4 Plate
---
WCHRA Ultra Street
PSCA Limited Street
Team Bodie Limited Small Tire 
Charles Jackson Jr. - '71 Nova
RES 420″ SBC – 4150 & Single Stage -4 Plate
---
NMCA Ultra Street
WCHRA Ultra Street
PSCA Limited 235
David Holtgrew - '67 Chevy II
RES 427″ SBC – 4150 + Single Stage -4 Plate
---
NMCA Ultra Street
WCHRA Ultra Street 
Contact Us
---
Please Call or Email for any additional service information or project consultation.